Pigeon Net For Balcony Raj Nagar Extension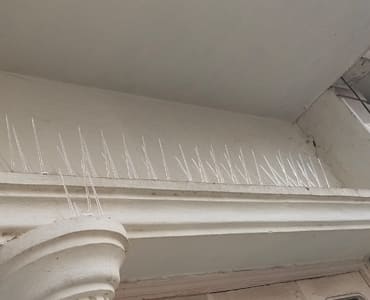 High-Quality Pigeon Net for Balcony in Raj Nagar Extension
Are you sick of pigeons occupying your balcony space? Look nowhere else! At Net 'n' Spike, we offer a premium pigeon net for balcony in Raj Nagar Extension made especially for your balcony to ensure a quiet and hygienic outdoor environment. Bring back a calm environment into your life by bidding farewell to the pigeons' annoyance and mess.
Our Solutions for Pigeon Net for Balcony in Raj Nagar Extension
Imagine being able to relax on your balcony in the evening or enjoy a morning cup of coffee without having to constantly deal with pigeons. Our pigeon net solutions are made to build a wall that keeps these birds out while preserving the aesthetic appeal of your home. Our professionals can tailor the net installation to exactly meet your needs because they are aware of the special difficulties that Raj Nagar Extension inhabitants experience.
Exactly Why Pick Our Pigeon Nets?
Custom-tailored: We recognize that every balcony is unique. Our pigeon nets are installed according to certain measurements to ensure a tight fit without detracting from the balcony's aesthetic appeal.
Strong Construction: Our nets are made from premium, strong materials that can survive a variety of weather situations and offer enduring protection.
Harmless Fix: Using our pigeon netting to keep pigeons off your balcony is a kind method to do it. Instead of harming the birds, it merely provides a barrier that enables them to locate a perch that is more appropriate.
Aesthetic Appeal: We think that beauty and usefulness may coexist. Our nets are made to match your balcony perfectly, preserving the elegance of your outside area.
Professional Installation: Our team of knowledgeable experts guarantees a trouble-free installation process. We take care of every little thing so that you can enjoy a tidy, safe, and pigeon-free balcony.
Reason to Choose pigeon net for balcony in Raj Nagar Extension.
Although Raj Nagar Extension is a bustling residential development, pigeons are frequently drawn there by the region's proximity to greenery and open areas. Despite the fact that these birds may appear innocent, their droppings can destroy your property and spread diseases. Our pigeon net solution offers a thorough response to this problem, assisting you in maintaining a clean and healthy living environment.
Make Contact: Use the Netnspike Website to get in touch with us and let us know what kind of pigeon net you specifically need for your balcony in Raj Nagar Extension.
Custom Consultation: Our experts will get in touch with you to better understand your demands and will then present a solution that is specifically designed to match your balcony.
Easy Installation: After you approve the plan, our staff will arrange a convenient installation to make sure your pigeon net is properly and attractively installed.
Get the pigeons off of your balcony in Raj Nagar Extension. With the help of our excellent pigeon net for balcony in Raj Nagar Extension, you may enjoy the satisfaction of a tidy and tranquil outside area. To begin the trip, get in touch with us right away at Netnspike. Enjoy the beauty of your outdoor space without the hassle-choose NetNSpike!